Alaska Grown has been around for over 30 years and is a program supported by the Alaska Division of Agriculture. The agriculture industry in Alaska created the Alaska Grown logo to highlight products grown in Alaska, and to help consumers identify which products are local.
Our Vision:
That everyone has access to Alaska Grown food and farm products.
That all Alaskan Farmers have a reliable market.
That every person, business, and organization fulfills their role.
2020 Specialty Crop Block Grant Program
Alaska's Division of Agriculture announces the availability of grant funds for the purpose of enhancing the competitiveness of Alaska's specialty crops including fruits, vegetables, horticulture and nursery crops. These funds are awarded through a competitive review process guided by industry, nonprofit and government stakeholders.
Please read the 2020 SCBG RFP for more information and to start your application.
Take the $5 Alaska Grown Challenge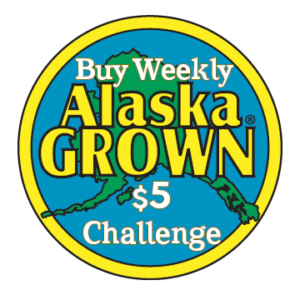 Spend $5 each week on Alaska Grown products at your local farmers market or retailers!
More information is available on the challenge here.
Alaska Grown - Celebrating more than 30 Years
As one of the most recognizable brands in the Last Frontier, Alaska Grown was created to help farmers, growers and producers market their products. The Alaska Grown brand is all about authenticity and promoting the success of Alaska's Agriculture Industry.