Alaska Grown has been around for more than 30 years and is a program supported by the Alaska Division of Agriculture. The agriculture industry in Alaska created the Alaska Grown logo to highlight products grown in Alaska, and to help consumers identify which products are local.
Our Vision:
That everyone has access to Alaska Grown food and farm products.
That all Alaskan Farmers have a reliable market.
That every person, business, and organization know their role.
Farm Family of the Year Nominations!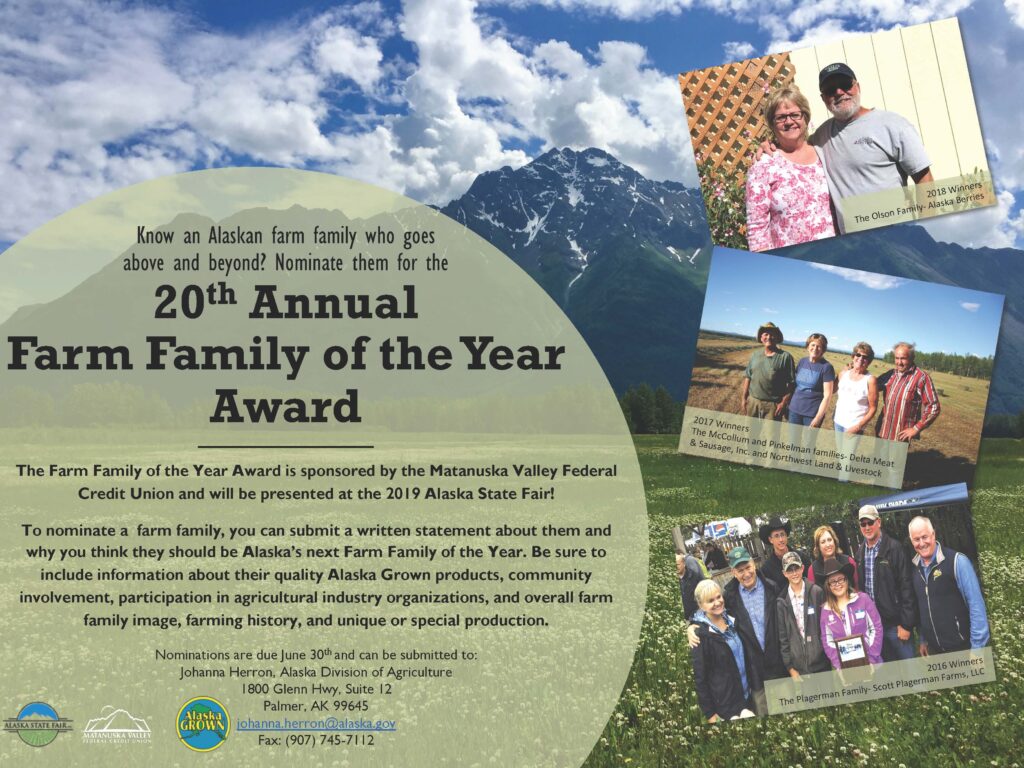 The Alaska Division of Agriculture invites the public to submit nominations for the 20th Annual Farm Family of the Year award, which will be presented at the 2019 Alaska State Fair.
With support from Matanuska Valley Federal Credit Union, the Alaska State Fair established the award in 2000 to honor an Alaska farm family that epitomizes the spirit of the industry, and to show appreciation for hard-working Alaskans committed to agriculture and aquaculture.
The Farm Family of the Year selection committee includes representatives from the University of Alaska, the agriculture industry, and several state and federal agricultural agencies.
Nominations should include details about the family and fulfill the following criteria:
• Production of quality Alaska Grown products (not based on quantity)
• Community involvement (e.g. civic organizations, school, sports, church)
• Involvement in agricultural industry organizations (local, state, and federal)
• Overall farm family image, farming history, and unique or special production
Nominations are due by June 30, 2019 and can be submitted by mail, email, or fax to:
Johanna Herron, Alaska Division of Agriculture
1800 Glenn Hwy, Suite 12
Palmer, AK 99645
johanna.herron@alaska.gov
Fax: (907) 745-7112
Take the $5 Alaska Grown Challenge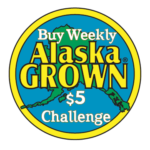 Spend $5 each week on Alaska Grown products at your local retailers. More information is available on the challenge here.
Alaska Grown - Celebrating more than 30 Years
As one of the most recognizable brands in the Last Frontier, Alaska Grown was created to help farmers, growers and producers market their products. The Alaska Grown brand is all about authenticity and promoting the success of Alaska's Agriculture Industry.